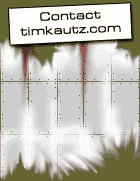 Tim Kautz
timkautz@yahoo.com



APPLICATIONS & TECHNOLOGIES
Photoshop, Illustrator, Flash, ImageReady, Director, Infini-D, SoftImage, Quark, DreamWeaver, Visio, HTML, CSS, SEO optimization for search engines and functional knowledge of JavaScript, CGI, PHP, JSP. CVS; ClearCase and SourceSafe. Expert Video Experience,with Premiere, After-Effects, Final-Cut Pro, DVD Studio Pro. Sound editing with Sound Forge. Fully capable in Windows/Macintosh, MS Office, Lotus Notes. Experience with Solaris, Apple, UNIX based systems. FTP, telnet, and most UNIX shells.
SKILLS
Specialize in rapidly building UI, Flash and HTML prototypes.

Master's in Multimedia - an interdisciplinary degree that encompasses Human-Computer Interaction, learning theories, art, computer science, telecommunications, education, and business.

Designed Flash interactive, self-paced, tutorials. Create static and flash banners ads. Designed HTML emails.

Expert creation of iconography for UI.

Extensive experience with usability testing factors, user interface design, cognitive psychology, and branding concepts.

Thorough understanding of cross-platform cross-browser compatibility issues, table-based layouts, etc.

Strong personal skills including focused listening, logical thinking, and working in a high-pressure team-oriented environment. Rapidly adapting to new technologies, standards, and ideas.

Efficient with an exceptional eye for detail, excellent time management skills, ability to work within tight time constraints and meet critical deadlines.

Excellent verbal and written communication skills.

Logo design
PROFESSIONAL EMPLOYMENT
Ventyx (formerly Indus International) - www.ventyx.com – Ventyx User Conference
Web/Multimedia Designer (2005 to present)
Responsible for visual design and graphical production of Ventyx web sites, including overall site interface, architecture, navigation, and layout. Collaborate with Senior Designer/Art Director and Marketing to determine site design, scope and objectives. Produce final style and graphics, including headlines, titles and buttons. Create HTML email templates. Design two corporate user conference websites and interim merger pages. Create flash animation presentations for trade shows. Lead in layout, UI design and iconography for corporate software products.
Genmark Automation - www.genmarkautomation.com
MARKETING Communications Specialist (2003 to 2004)
Responsible for complete redesign and management of Genmark Automation's corporate website. Designed corporate collateral materials including product brochures, spec sheets, and postcards. Primary liaison to print vendors. Coordinated trade show visuals and booth design. Created tradeshow product posters and produced product video demonstrations. Created Flash product catalog. Optimized web pages for search engines.
Atempo - www.atempo.com
WEB MARKETING MANAGER - "Chef du Web Marketing" (2001 to 2002)
Responsible for complete redesign, navigation and content of Atempo's corporate website including internationalization in English, French and German. Design and creation of corporate collateral and brochures. Established web site guidelines and procedures. Storyboarding, illustration and creation of product tutorials and demos. Optimized web pages for search engines. Layout and UI design for corporate software product.
TargetFirst
WEBMASTER/MULTIMEDIA DESIGNER (2000 to 2001)
Tasked with design and maintenance of the TargetFirst website. Complete conceptualization, design, and execution of redesigned site. Design of corporate logo, marketing collateral, brochures, and partner web site integration. Optimized web pages for search engines. Analyzed web statistics and traffic using Web Trends.
IBM Corporation - Storage Systems Division Web site
WEB DESIGN PROGRAM MANAGER/MULTIMEDIA DESIGNER (1998 to 2000)
Oversaw entire IBM storage division web presence, some 13,000 individual pages, and managed web teams throughout world assuring corporate guidelines, brand imaging, and web standards were strictly maintained. Spearheaded site redesign and directed corporate site redesign. Conceptualized and created Flash presentations for new product technologies and product announcements. Launched new product sites and E-business sites.
ESS Technology - www.esstech.com
GUI DESIGNER (Consultant)
Design and functionality of the GUI (Graphical User Interface), including buttons, icons, color palettes, text, graphics and animation.
Amdahl Corporation (1984 - 1997)
"SPOTLIGHT" CORPORATE NEWSMAGAZINE-ART DIRECTOR
Responsible for full creative development, from research of necessary background information to finished product of required artwork per issue. Created storyboards for training procedures.
Metrology Laboratory
ILLUSTRATOR/TECHNICIAN
Illustrator/designer of employee educational and training materials. Complete design and creation of Metrology Lab intranet web site. Wrote, produced and directed video training package for field service personnel detailing complete line of company products.
EDUCATION and TRAINING
California State University, Hayward, Master of Arts, Multimedia, 1997
California State University, Hayward, Bachelor of Arts, Studio Art-Computer Art, 1995
Heald Institute of Technology, Santa Clara, California, A.S. in Electronics Technology 1984
Flash Action Scripting Intensive Training Course
Certified 2465B/2467B Microprocessor Based Oscilloscope, Irvine, CA, Tektronix 1992
CAD Training Class, Sunnyvale, California, Amdahl Corporation 1987
PORTFOLIO
2007 IndusWorld conference web site.
2007 Design of the AthleticEndurance.com web site.
2007 Design of the PinaDellaCasa.com web site.
2007 Design of the ElegantPaintings.com flash web site.
2006 Flash Corporate Christmas Card 2.7mb
2005 Design of the SaveTheLorenzo.org web site.
2005 TVtour.org flash animation after logo
2005 Genmark Automation Product Catalog (Flash:2.9mb)
2002 Telophase web site.
2002 Redesign of the BalletPetit.com web site.
2001 Redesign of the GenieBottles.net web site.
2001 www.timkautz.com awarded "Golden Web Award" by the International Association of Web Masters
and Designers in recognition of creativity, integrity and excellence on the Web.
2001 Design of "Porthos Consulting" web site (www.porthosconsulting.com)
2001 www.timkautz.com awarded the prestigious "Webmaster Award" for exceptional graphics as
well as unique & interesting content.
2000 Creation of "Fame for Kids" web site (www.fameforkids.com)
1997 Web Design for "Exposé" (www.exposé.org)
1994-2001 Illustrator for "Expose" Progressive Music Newsletter
1993 Winner of "America's Funniest Videos"
1991 1st Place Winner of Orion Short Film: "Dances with Wolves Run with the Buffalo" Contest


1990-1992 Illustrator for Spotlight Corporate Newsletter
1990 First Place Winner of "Video Magazine" Commercial Contest
1990 Created ISO-9000 Design for Amdahl Manufacturing
1986 Award for Amdahl Quality Motivation Contest
1983 Seminar in Computer Graphics and Animation in Movie Special Effects at CSUH
Instructor: Rodney Stock, Graphics Engineering Manager at Lucasfilm LTD.
1979-1980 Award for Citicorp Graphics Contest
1977-79 Creator/Producer/Writer/Actor "Festival of Insanity" Comedy, Newark Channel 6.
REFERENCES
Available on request